CD and DVD Cold Storage 
Is CD and DVD cold storage a viable method for preserving this type of optical disc media?

Advantages of Cold Storage for Preservation
Cold storage can be an effective method of slowing down the degradation of certain types of information carriers. For example, cold storage is effective in slowing down the degradation of dyes and therefore the fading of color photographic prints, negatives, and slides. Cold storage also stabilizes degrading nitrate and acetate sheet and motion picture films. Cold storage is even used to slow down the degradation of paper materials. Therefore, in terms of using below freezing temperatures to preserve information carriers there is a viable precedent on its successful use.

Cold Storage Standard Specifications
For CD and DVD cold storage, the ISO standard for the storage of optical discs states that storage down to -10 degrees Celsius is acceptable. However, up until recently there has been no scientific research examining what effects below zero temperatures have on CD and DVD optical disc media.
Also, what happens to these discs if temperatures fall below -10 degrees Celsius? Because optical discs are comprised of several layers, there is concern that delamination of these layers may occur with exposure to low temperatures and with fluctuations in these conditions.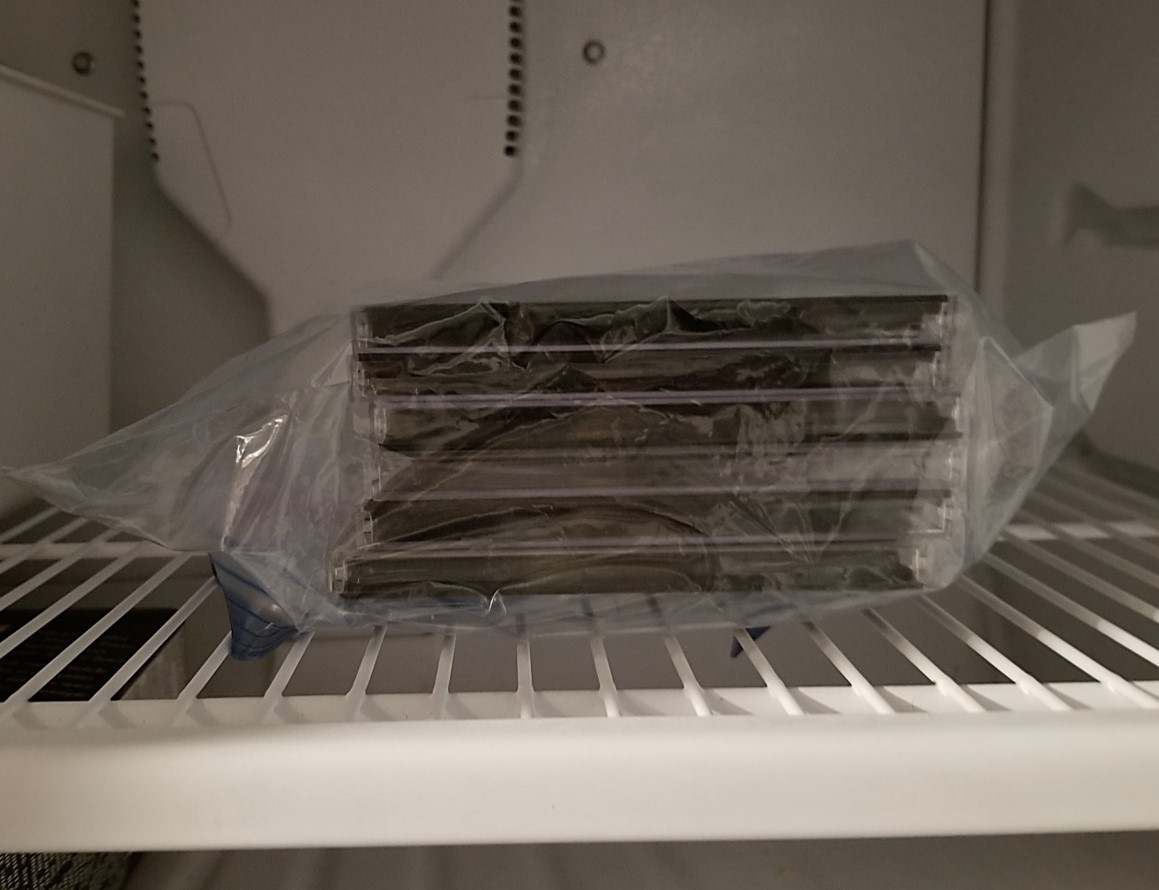 A CD and DVD Cold Storage Study
A 2011 study published in the Restaurator Journal (a journal specifically dedicated to the preservation of archival and library materials) examined the problem of optical disc cold storage. A variety of optical disc types (CDs, CD-Rs, CD-RWs, DVDs, DVD-Rs, and DVD-RWs) were subjected to a steady temperature of -20 degrees Celsius for 16 weeks. An identical set of samples experienced a rapid daily fluctuation between room temperature and -20 degrees Celsius for a 16-week period as well.
From this study, CD and DVD cold storage did not lead to delamination of disc layers or any other types of physical damage to the media. In terms of changes in error rates of the discs, the following CD and DVD formats did not experience an increase in errors as a result of cold storage and fluctuating cold storage exposure: read-only CDs such as audio CDs and CD-ROMs, CD-RWs, DVD movie discs and DVD-ROMs, DVD-Rs, and DVD-RWs. For CD-Rs, the conclusions were not as clear cut.
Very stable CD-Rs such as the gold metal layer and phthalocyanine dye disc was unaffected by cold storage. However, CD-Rs showing poor stability (as determined by some previous experimental work by the same author), in particular those discs that use cyanine and azo dyes, did experience increases in error rates after exposure to cold storage conditions. This essentially means the unstable discs that would benefit the most from freezing storage are harmed by the cold storage conditions. For these discs, instead of using CD and DVD cold storage for stabilization, it is best to simply copy the information onto a more stable CD-R or even some other type of information carrier.

In summary, cold storage can be an effective tool for slowing down the degradation of information carriers and most optical discs did not experience significant problems with cold storage exposure. However, keep in mind that some less stable CD-R media as outlined above may suffer when exposed to below zero temperatures.