Digital Scrapbooking Storage Blog
The Digital Scrapbooking Storage Blog provides you with information on the recent changes and updates that have occurred with the digital-scrapbooking-storage.com website.
If you would like to stay informed, click on the orange RSS button below the main button bar on the left of the page to subscribe to the Digital Scrapbooking Storage Blog.
Not sure about RSS and blogging? Then click on the "What's an RSS Feed?" link that is below the orange button.
Listed below are links to recently changed pages or new pages on the Digital-Scrapbooking-Storage.com website.
DVD R or Recordable DVD Media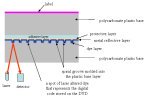 DVD R or recordable DVD media is similar to the CD R format but it provides about seven times more capacity for the storage of digital information.