Duplicate Photo Remover
A duplicate photo remover or duplicate file finder is an important tool for anyone working on digital scrapbooking projects and any individual who stores digital photographs.

Digital Information Overload

In the age of digital photography and digital information in general, enormous amounts of data are being generated. Storage of much of this data is on computers used for daily tasks and on other storage media and not discarded, even though the information may be of little value. In particular, this is a problem with those taking and storing digital pictures. Digital photography allows one to easily take many pictures and what often occurs is the downloading of these pictures to a computer without eliminating poor images or redundant pictures.
In other scenarios, individuals working on projects such as digital scrapbooks, tend to create new folders and copy images into those folders. In addition, when attempting to organize the vast amounts of digital photographs or creating backups, copies are made and stored on the same computer.
Problems with Excessive Data on Computers
Why is a duplicate photo remover or duplicate file finder required? The main purpose is to free up storage space on the computer. Having duplicate files occupies space that could instead store more important files and programs. A computer with little available storage space will not run efficiently and will not run as expected. Adding more programs can be an issue because of the lack of storage space.
Also, when backing up the computer, more time is necessary because of all the duplicate files backed up during this process. The duplicates also consume space on the storage media used for performing the back up. This is where a duplicate photo remover becomes a useful tool.

The Duplicate Photo Remover
The duplicate photo remover is not necessarily specific to only removing duplicate photographs, it can also find duplicates of other types of files. There are many versions of this type of software available and many are free. This page discusses the Fast Duplicate File Finder program. This is an easy to use program that locates duplicate files on the computer and deletes them at the user's request. This is useful software to have in your toolbox to properly utilize the storage capacity of the computer and to ensure a computer will function properly.
Once downloaded onto the computer, open the duplicate photo remover, in this case the Fast Duplicate Finder program. There are many adjustable options and parameters, but the example presented below illustrates only a basic scan. This basic use of the duplicate photo remover software will satisfy the requirements for most users.
The first step is to select New Project at the top left task bar and a window opens where the user selects the folders for analysis of duplicate photos or files. Once selecting the desired folder or folders, click on the OK button. Ensure the checked settings are set as in the image below.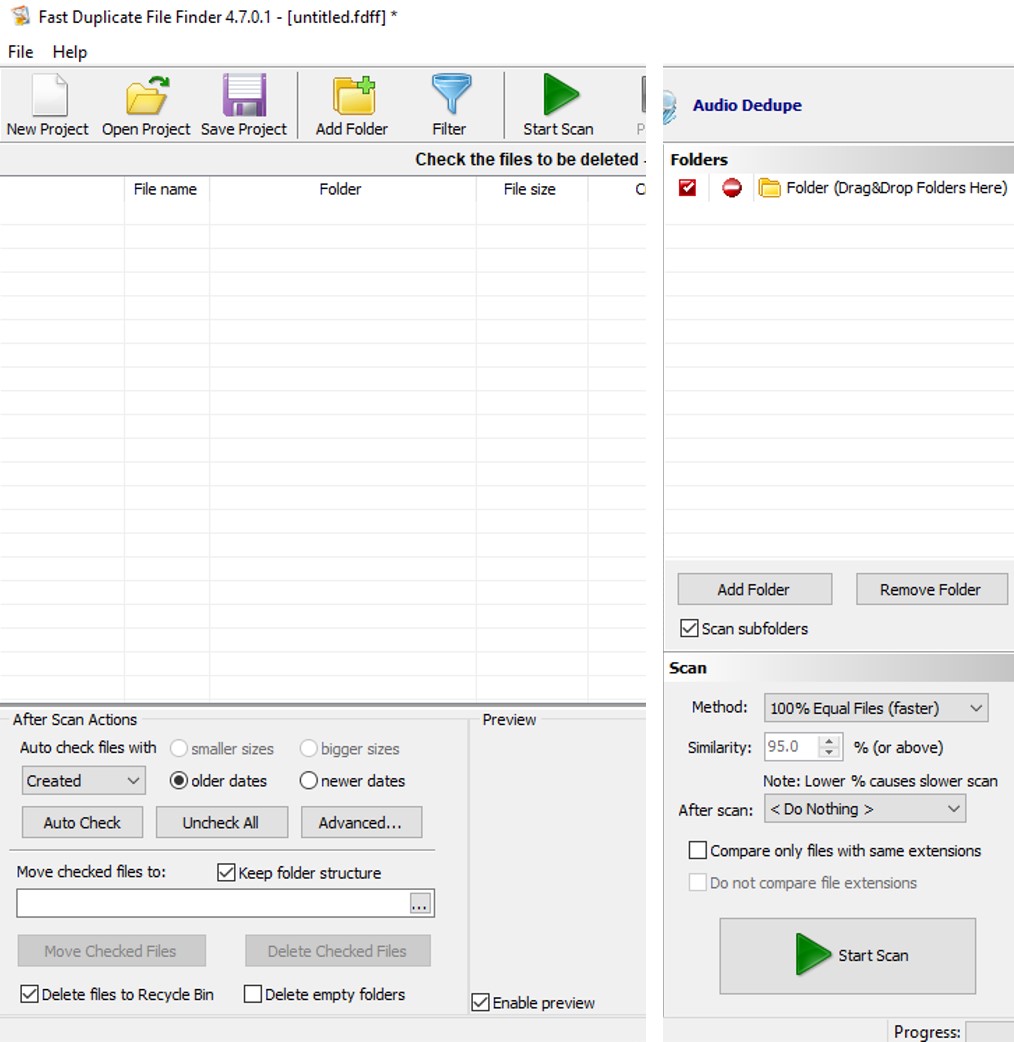 Next, click on Start Scan and allow the duplicate photo remover program to perform its analysis. Once completed, the photo files will be listed with small thumbnails for easy identification. There is also the option to scroll through the images for a better comparison. The duplicates will already be checked for deletion and the option exists to delete files quickly by clicking on the Delete Checked Files button. Alternatively, deletion of the files can be on a one by one basis if desired.