Fillers for Scratches on CDs and DVDs
by John
(United States)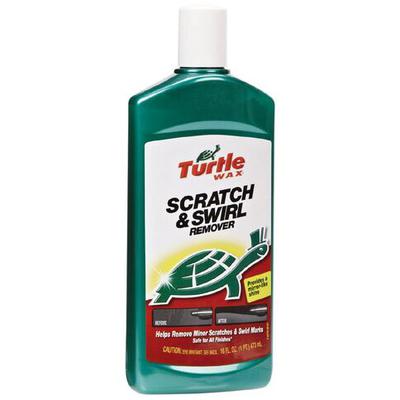 A commercial product such as Turtle Wax is a filler remedy for possible scratch repair on CD or DVDs.
One of the proposed remedies for scratches on CDs and DVDs is the use of fillers. What exactly are fillers and do they really repair scratched CDs and DVDs effectively or at all?

Fillers are often a proposed remedy for scratched optical disc media. In fact, some filler products for disc repair are commercially sold whereas many others are simply home remedies. The purpose of a filler is to fill the scratch or gouge on the reading side of the CD or DVD. The filler cannot be any material. It must be a material that has a refractive index very close to polycarbonate, which is the plastic used in the base of these discs. A match in refractive index means that when the laser light that reads the disc shines through the base of the disc and the filler material, it will behave as if the filled area is polycarbonate only (the filler would be invisible to the laser light). Thus, the light will not scatter and no resultant loss in light intensity occurs. Low light intensity reaching the data layer of the CD or DVD means problems reading the data, errors, and subsequent read or play problems.

Unfortunately, it is very difficult to find a match to the refractive index of polycarbonate. Therefore, most materials used as fillers for scratches will not solve the light scattering caused by the scratch and will in fact contribute to additional light scattering.

Another disadvantage of using fillers is that they flake off the disc, especially in the drive. The disc spins at high speeds and the temperature inside the drive is warm. These two factors, combined with the poor adhesion between the filler and polycarbonate base, will cause flaking of the filler and contamination of the drive.

It is best to avoid the use of fillers because of the little chance of remedying scratched CDs and DVDs and because of likely equipment contamination.


More information on optical disc repair can be found at the following link.